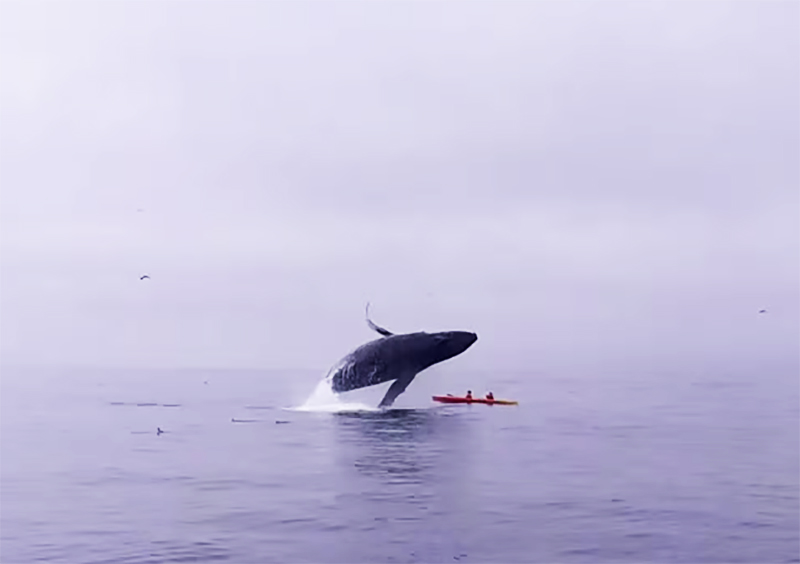 Seeing a breaching whale is an unforgettable event. Often whale watchers sit and wait for whales to surface for hours on end, watching the ocean for any bit of movement. It can be incredibly tedious and boring, but when a whale finally breaks through the surface of the water, it's certainly a magnificent thing to see. But these whale watching kayakers were more than a little too close for comfort, getting a whole lot more than they bargained for.
Sanctuary Cruises, whose passenger Larry Plants captured the video below, writes that "while on a whale tour just outside the harbor in Moss Landing (near Monterey, California), two kayakers on a tandam kayak were almost crushed to death by a massive, near full-size humpback whale. We stopped to see a large aggregation of humpbacks feeding and carrying on with random acts of hijinks. There were also a lot of kayakers right in the middle of it all. Humpbacks were coming up next to and in the middle of many kayakers. It was amusing. It's all fun and games until someone gets jumped on. The next thing we knew, this thing launched right on top of these two kayakers. That was heavy."
According to the U.K.'s Telegraph, the British kayakers who were involved, Tom Mustill and Charlotte Kinloch, said that onlookers had feared the worst as the pair disappeared from view, but remarkably, they were left without a scratch and the only damage was a small dent to the kayak's bow.
Kinloch called the moment the whale hit 'terrifying' and likened it to a building falling on them, explaining, "It felt like being in an avalanche, like a bus landing on us." Mustill, who the paper reports is "used to close encounters with animals in his job as a wildlife film-maker," said he was still struggling to believe they had survived to tell the tale.
He further explained, "We had an amazing couple of hours and we were heading home. There were whales on the surface that we were watching, but we didn't see this one; when a whale breaches you don't see it on the surface because it has to get momentum from quite deep down.
"Then we saw it. It was above us and all I could see was this whale crashing towards us, blocking out the light. I thought, 'Oh, I'm going to die now.'"
The kayak was dragged under the surface and the pair were thrown out of it. "There was a huge amount of suction and it pulled us underwater," he continued. "For me, that was the really scary part because [it was when] I felt I could do something to make a difference to being alive or not, but I felt the whale in the water next to us and it was so powerful, I can't really comprehend it even now."
Watch the astounding event in the video below: